Hi all,
Realized this recently, but whenever I use hashtags on my Akkoma instance, the hashtags render properly as just hashtags and when I add a URL, it will have the proper link preview.
However, the same post rendered from Mastodon when a Mastodon user views the same post, the first hashtag is a link back to a hashtag hosted on my instance and then the my actual link doesn't appear as the link preview.
I'm not sure if it's the way that Akkoma/Pleroma handles hashtags that's different than Mastodon, but it's kinda annoying that all posts from my Akkoma instance with a hashtag, the link preview is of the first hashtag because it's being treated as a link instead of my actual link.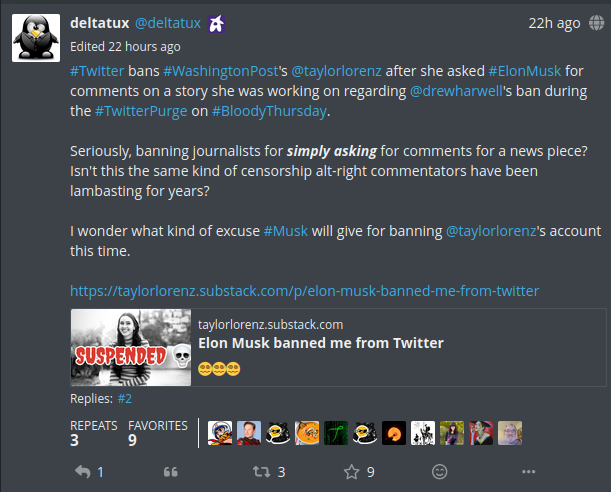 Example post with hashtag & link as rendered from my Akkoma instance.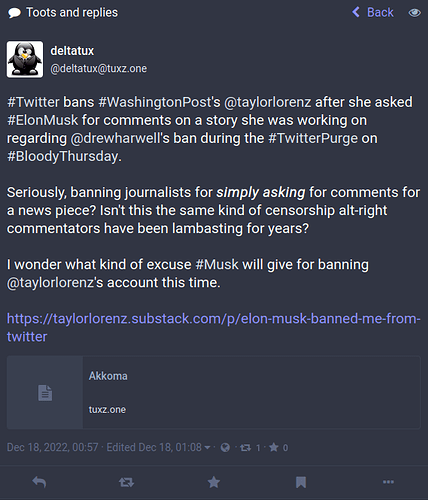 Same post as rendered from Mastodon, the link preview shows a link to the Twitter hashtag that resides on my Akkoma instance instead of my actual URL.
Not sure if it's just how it's different between Akkoma/Pleroma and Mastodon or I misconfigured something.
Any assistance is greatly appreciated, thanks!