a small little release for you today, nothing huge, a few bug fixes and some cool little frontend thingies
New Stuff
Post drafts
This is very hard to capture in a screenshot ~_~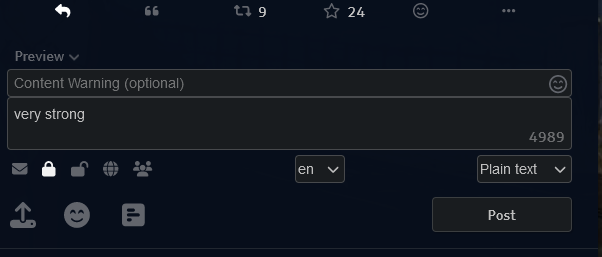 basically, you know when you type a reply to a post, and you accidentally navigate away/close the post form?
well now your hard-typed post will not disappear, but will instead remain for you to find again where you left it! hooray
Recently Used Emojo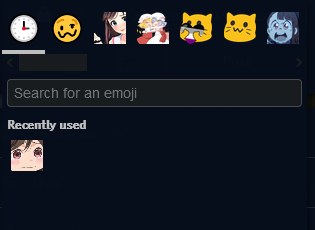 now this one is easy to illustrate in a screenshot. use a lot of emoji? use the same few a lot and have to continuously type the shortcode?
no longer!
now when you use an emoji, it is stored in your list of recently used emoji for later use
The great activity purger
before:


after:

We've got an object pruner, right? Nice and simple, deletes objects older than x days.
Problem is that every object has one or many activities that reference it, and they can really build up.
Older instances probably have 10-20GB of activities laying around, that are borderline-useless.
Now there's a solution - the activity pruner
Check out https://docs.akkoma.dev/develop/administration/CLI_tasks/database/#options_1 - we've now got --prune-orphaned-activities which will also prune the activities table.
WARNING: this will lead to irreversable data loss, especially if you are not careful with the flags you provide. That is the intention, but make sure you double-check before you hit run.
WARNING THE SECOND: this is massively database-intensive. if you are an older instance and plan to do this, i'd advise making a thread in support, you'll likely want to slowly delete activities in the background
Links
As ever, updating your instance
Thankies
Go out to:
Mahito TANNO, quad for doc errata fixing
Yhëhtozr for making us able to display the BIGGE misskey emoji
flisk for errata and frontend stuff - the recent emoji thing is really nice!
foxing for helping negotiate functionality with clients
ilja for going once again going absolutely too far into database pruning, it works really nicely - praise having disk space
solidsanek for post draft functionality - finally i won't lose my essay of incoherent rambling :hehe: