its-a me, release day, here again to ruin your schedule and make you question your sanity
since we didn't have a january release, this is probably the biggest single release i have ever done. i'd make me opening quote something about alerting the guards but i've made that joke already.
no more fluff lets go
New stuff
Prometheus statistics
Returning from the dead in a new, improved form, we finally have common statistics being exported via prometheus for your graphing pleasure. These are locked behind an oauth wall, so you don't need to worry about randoms scraping them or anything.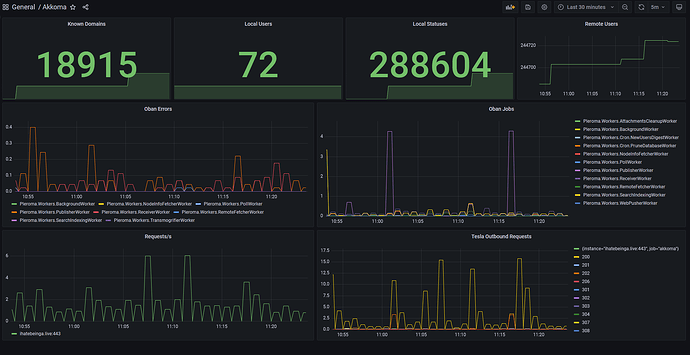 See Monitoring Akkoma - Akkoma Documentation for more information on setting this up for your instance.
Argon2 hashing
User passwords are now hashed with the recommended argon2 algorithm, keeping you and yours safer from any potential shennanigans. Passwords will be auto-upgraded on login, so you shouldn't have to do anything here. Hooray.
Profile Link Verification
You know that little tick that appears next to profile links on mastodon? Well we have it now!

It works exactly as you might expect - you need a rel=me link to your profile on the link destination, and it'll verify it as belonging to you. Pretty cool, huh? Feel free to look at mine as an example of how to set it all up.
Post language tagging
Another feature that has been on the to-do list for the longest time - finally posts are able to be tagged with which language they're in. In a future release this will enable you to filter your timeline based on post language, but for now it's just there as interesting metadata.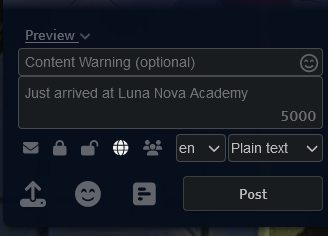 Follow request fixes
Yes crimew i see you and your insane follow request count. Follow requests are now paginated (compatible with mastodon API) and will be consistently ordered, which should make life a lot easier for you lot with insano numbers of follow requests. Hooray.
And more
As ever there's a whole tonne more that either doesn't have a visual component i can show off or just fixes stuff
Check out the changelog for a full list of things!
Updating
Is the same as always!
See Updating your instance - Akkoma Documentation for the instructions.
Note that from-source users are now recommended to use tagged releases to prevent frontend and backend version from slipping out of sync.
If you switched your frontend to develop over the past 2 months, now would be a good time to switch release tracks back to stable.
Thankies
I might finally have to stop doing these, there's too many!
ilja for delving far deeper into activity pruning than any sane person ever should
darkkirb, ihor for fixing exiftool, and the former for fixing up some masto compatibility
acuteaura, stefan, timorl, lechindianer, norm, knova for fixing documentation and other errata - it helps a lot!
a1batross, eris, beefox, sfr for bugfixes on the frontend
yanchan09 for making emoji picker S T R O N K E R - hopefully even weird german name instance's emoji count will manage just fine with this